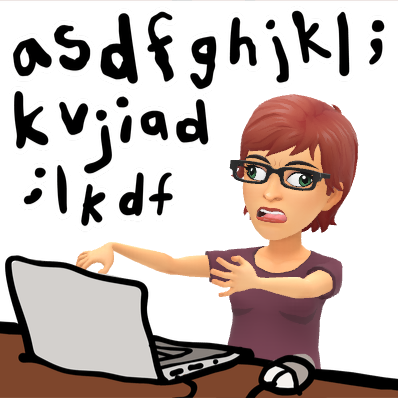 All the kids are back in school, but for most of us, school is home. And I'm just going to stop right there and send a huge hug out to all the parents, grandparents, older siblings, friends, and/or any other caretaker who is helping these home-bound kiddos to learn. It is nothing like we expected, and we are all doing our best to help our kiddos. And for those of you who have kids on the hybrid model. You get hugs as well. Back and forth, varying schedules, it's rough... so rough! I'm just sending out hugs to everyone. 2020 has not been an easy year for any of us, and it isn't over yet. Not by a long shot. But we do what we have to do, right? Every day we make it through, and we all deserve a pat on the back for doing what we can in such trying times. So take a moment and remember that you are doing good. Keep up keeping up. And when you do find a few minutes, don't forget to give yourself a little time for self-care. You deserve it.
Author Updates
I recently started a new little video series on my YouTube channel. Every Sunday I am holding a Read With Me, chapter-by-chapter read through of A Weapon of Magical Destruction. I won't be doing my own audio book by any stretch of the imagination, but it has been fun spending time with my characters and trying to show the energy I feel in this book, by reading it aloud. And, as you can expect, I trip over my own tongue. It's pretty funny. One listener suggested I should make a drinking game of it. But that could be dangerous. Either way, it has been fun and I plan to keep it going. So if you'd like to listen in, and laugh at my authorly tongue twisters, here are the direct links to the videos.
Chapter 1 - https://youtu.be/1hcngiB_Xd0
Chapter 2 - https://youtu.be/hgOGo0tDvYk
Chapter 3 - https://youtu.be/c256oRYiSXk
Chapter 4 - https://youtu.be/aBJeIKuGbKM
Don't have the book? No worries. Grab a copy from your favorite online retailer.
https://books2read.com/magicdestruction
Books On Sale
Mountain Man's Therapy: A Second Chance Secret Baby Romance
(Mountain Men Surprise Baby Book 1)
Kindle $0.99 Deal
https://storyoriginapp.com/swaps/65de1744-eebc-11ea-9ec5-cf471b25d863
House of Immortal Pleasures, a Vampire-run Brothel
One Night with a Vampire
Free Review Copy
https://storyoriginapp.com/reviewcopies/83fffd6e-2fa6-4fa8-baa1-61c4734dfbc1
Group Promo
SFF Reviews
Get these books fast! This promotion ends September 30th!
https://storyoriginapp.com/to/YI7GGzw
What's next? Discover a new series.
Get these books fast! This promotion ends September 30th!
https://storyoriginapp.com/to/3zVftbk
Vanessa's ~ Kindle Unlimited (Sep)
Get these books fast! This promotion ends September 30th!