EL James has become a household name since she published her smash hit series, Fifty Shades of Grey. She's arguably the most successful self-published author despite the fact that her self-published book was quickly snagged up by a division of Random House in 2012. Given the backing of a major publisher it's no wonder the book turned an almost immediate commercial success. Success doesn't come without some negatives. Dubbed "Mommy Porn," the series was both loved and hated in equal measure, but ultimately sales are what counts and the series turned movie and spawned additional side stories told from the male lead's perspective.
But this is all old news, right? Been there, done that. We're all over the whole Mommy Porn drama, aren't we?
Not even close!
Just a few days ago, EL James announced to the world she's back at it again with a new book due out this Spring titled, The Mister, calling it "a Cinderella story for the twenty-first century."
While she hasn't come out and said it will be as erotically charged as her previous series, she's created an expectation in her readers for a certain type of book and I think it's safe to say we're in for a naughty treat.
In a statement released by Penguin Random House, James says: "I'm so excited to finally get this passionate new romance out into the world.…Maxim and Alessia have led me on a fascinating journey and I hope that my readers will be swept away by their thrilling and sensual tale, just as I was while writing, and that, like me, they fall in love with them."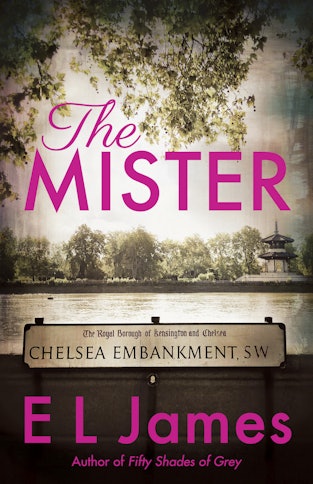 The passionate new romance from E L James, author of the phenomenal #1 bestselling Fifty Shades Trilogy
London, 2019. Life has been easy for Maxim Trevelyan. With his good looks, aristocratic connections, and money, he's never had to work and he's rarely slept alone. But all that changes when tragedy strikes and Maxim inherits his family's noble title, wealth, and estates, and all the responsibility that entails. It's a role he's not prepared for and one that he struggles to face.
But his biggest challenge is fighting his desire for an unexpected, enigmatic young woman who's recently arrived in England, possessing little more than a dangerous and troublesome past.

Reticent, beautiful, and musically gifted, she's an alluring mystery, and Maxim's longing for her deepens into a passion that he's never experienced and dares not name. Just who is Alessia Demachi? Can Maxim protect her from the malevolence that threatens her? And what will she do when she learns that he's been hiding secrets of his own?
From the heart of London through wild, rural Cornwall to the bleak, forbidding beauty of the Balkans, The Mister is a roller-coaster ride of danger and desire that leaves the reader breathless to the very last page.
Will this book be as successful as her previous offerings? Only time will tell, but as it stands now, it's already ranking at the top of the pre order charts on
Amazon.com
Amazon Best Sellers Rank: #97 in Books
#2 in Books > Literature & Fiction > Erotica > Romantic
#59 in Books > Literature & Fiction > Literary
#60 in Books > Literature & Fiction > Women's Fiction > Contemporary